What you will learn by reading this article:

The benefits of renting a condo in the Dominican Republic, including more space, privacy, and access to amenities.
How to research the condo rental market in the Dominican Republic, including finding condos for rent and evaluating rental rates.
Tips for renting a condo in the Dominican Republic, such as conducting property tours and checking for additional charges and fees.
Are you looking for the best condos for rent in the Dominican Republic? If so, you've come to the right place. In this comprehensive guide, we will explore everything you need to know about renting condos in this beautiful Caribbean destination. From the benefits of renting a condo to tips for finding the perfect rental, we've got you covered. So, let's dive in and discover the ultimate vacation and investment opportunities that the Dominican Republic has to offer.
Benefits of Renting a Condo in the Dominican Republic
Renting a condo in the Dominican Republic comes with a plethora of advantages over traditional accommodation options like hotels and resorts. Condos provide more space, privacy, and comfort compared to hotel rooms. With separate living areas, bedrooms, and kitchens, renting a condo allows you to feel at home during your vacation or investment research.
Another significant benefit of renting a condo is access to a range of amenities. Many condos in the Dominican Republic offer pools, gyms, and private beaches, providing a luxurious experience. Families and groups can enjoy quality time together without the limitations of hotel rooms.
Furthermore, renting a condo offers flexibility in terms of rental terms and duration. Whether you are planning a short-term vacation or a long-term stay, condos can cater to your needs. Many condo owners and rental agencies in the Dominican Republic offer flexible rental terms, allowing you to plan your stay according to your schedule and preferences.
Researching the Condo Rental Market in the Dominican Republic
Before renting a condo in the Dominican Republic, conducting thorough research is essential. Online platforms and websites dedicated to Dominican Republic real estate are valuable resources for finding condos for rent in popular areas like Sosua. These platforms allow you to browse through a wide range of options, compare prices, and read reviews from previous renters.
When choosing a location for your rental, consider factors such as proximity to attractions, beaches, and amenities. For example, Sosua is known for its beautiful beaches, vibrant nightlife, and diverse dining options. Choosing a condo close to these attractions allows you to make the most of your vacation or investment experience.
Additionally, it's crucial to evaluate rental rates, availability, and special offers. The rental market in the Dominican Republic can vary depending on the season and demand. Staying informed about current rental rates and availability helps you secure the best deal for your desired condo.
Understanding the Condo Rental Process
Once you've identified potential condos for rent in the Dominican Republic, it's time to understand the rental process. Contact property owners, rental agencies, or use online platforms to inquire about the property, rental terms, and availability.
Negotiating rental terms, duration, and payment methods is an important aspect of the process. You may be able to negotiate a better rental rate or secure a longer-term stay based on your needs and preferences. Exploring these options ensures you get the most value out of your rental experience.
Before committing to a rental agreement, thoroughly review it. Pay attention to details such as cancellation policies, additional charges, and any specific rules or regulations. It's essential to have a clear understanding of the terms and conditions before signing the rental agreement.
Tips for Renting a Condo in the Dominican Republic
To make the most of your condo rental experience in the Dominican Republic, consider the following tips:
Conduct Virtual or Physical Tours: Before finalizing your rental, conduct virtual or physical tours of the property to get a better idea of the layout, amenities, and overall condition of the condo.
Check for Additional Charges and Fees: Be aware of any additional charges and fees, such as security deposits, cleaning fees, or utility expenses. Clarify these details in advance to avoid any surprises.
Ensure Necessary Amenities and Utilities: Confirm that the condo is equipped with all the necessary amenities and utilities you require for a comfortable stay, such as Wi-Fi, air conditioning, kitchen appliances, and laundry facilities.
Safety and Security Considerations for Condo Rentals
Safety and security should be prioritized when renting a condo in the Dominican Republic. Research the safety of neighborhoods and condo complexes in Sosua to choose a secure area for your stay. Gated communities and condos with 24/7 surveillance offer an added layer of security and peace of mind.
In addition to the property's security measures, take personal safety precautions during your rental stay. Familiarize yourself with local customs and guidelines to ensure a safe and enjoyable experience. Avoid displaying valuable items in public and be cautious when venturing out at night.
Understanding the Legal Aspects of Condo Rentals
Familiarize yourself with the local laws and regulations regarding property rentals in the Dominican Republic before renting a condo. Each country has its own set of rules, and complying with them ensures a smooth and legally compliant rental experience.
If you're unsure about any legal aspects or have specific concerns, seeking legal advice is recommended. A local attorney specializing in real estate can provide valuable insights and guidance, helping you make informed decisions throughout the rental process.
Understanding your tenant rights and responsibilities is also crucial. Familiarize yourself with the terms of the rental agreement and the obligations you have as a tenant. By being aware of your rights and responsibilities, you can ensure a harmonious relationship with the property owner or rental agency.
Preparing for a Condo Rental Stay in the Dominican Republic
To make your condo rental stay in the Dominican Republic as comfortable and enjoyable as possible, consider the following preparations:
Essential Items to Pack: Depending on the duration of your stay, pack essential items such as toiletries, climate-appropriate clothing, adapters for electrical outlets, and any specific items you may need.
Transportation Arrangements: Plan and arrange transportation from the airport to your condo in advance. Whether it's hiring a taxi, arranging for a private transfer, or renting a car, having transportation sorted out ensures a smooth arrival and departure process.
Grocery Shopping, Dining, and Exploring: Familiarize yourself with nearby grocery stores, restaurants, and attractions. This will make it easier for you to settle in, stock up on supplies, and explore the local culture and cuisine.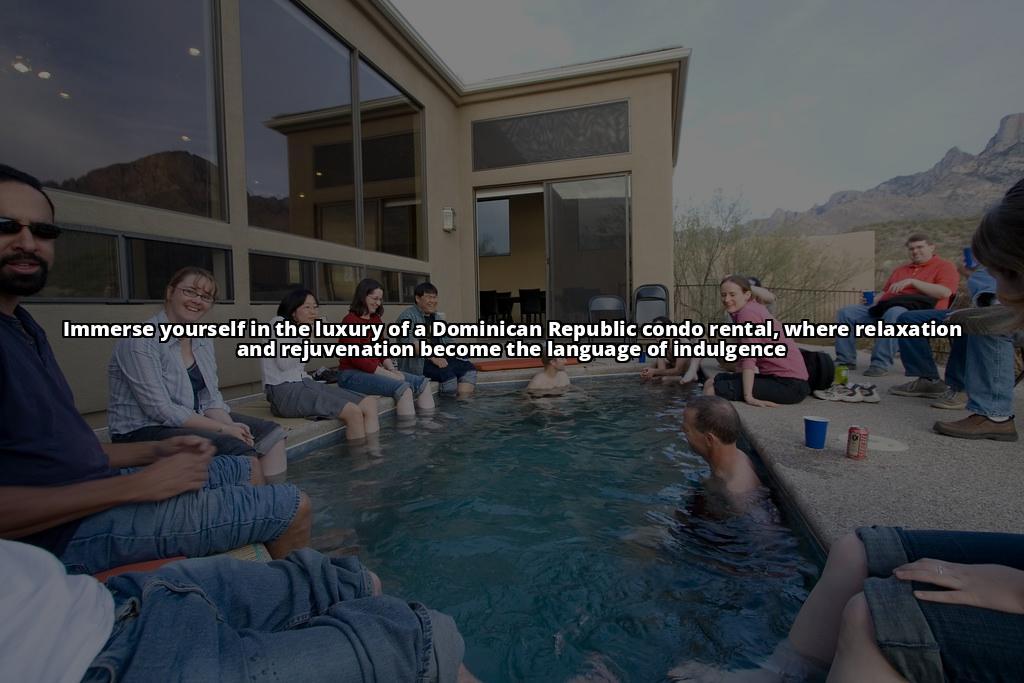 Making the Most of Your Condo Rental Experience
To truly maximize your condo rental experience in the Dominican Republic, consider the following tips:
Engage with the Local Community: Immerse yourself in the Dominican culture by engaging with the local community. Visit local markets, interact with residents, and participate in cultural events to get a deeper understanding of the destination.
Explore Nearby Attractions: Take advantage of the location of your condo and explore nearby attractions, beaches, and outdoor activities. The Dominican Republic offers a wealth of natural beauty, historical sites, and adventurous experiences to indulge in.
Create Memorable Experiences: Focus on creating memorable experiences during your rental stay, such as organizing a beachside barbecue, arranging a day trip to a nearby island, or simply enjoying a sunset from your condo's balcony.
Real-Life Case Study: Sarah's Dream Vacation Rental in Sosua
Sarah, an avid traveler and real estate investor, had always dreamt of owning a vacation rental in a tropical paradise. After extensive research, she decided to invest in a condo in Sosua, Dominican Republic. With its stunning beaches, vibrant culture, and booming rental market, Sosua seemed like the perfect location.
Sarah purchased a beautiful two-bedroom condo in a gated complex that offered amenities such as a pool, gym, and private beach access. She quickly realized the potential of her investment, as the demand for vacation rentals in Sosua was high.
To make the most of her investment, Sarah decided to rent out her condo when she wasn't using it. She listed it on popular online rental platforms and created an appealing listing with professional photos and detailed descriptions of the property and its amenities.
Within a short period of time, Sarah started receiving inquiries and booking requests from vacationers eager to experience the beauty of Sosua. She carefully vetted each guest, ensuring they met her rental criteria, and communicated promptly to answer any questions they had.
Sarah was meticulous about the rental process, providing her guests with a comprehensive rental agreement that outlined the terms, payment methods, and cancellation policies. She also made sure to inform her guests about the local laws and regulations to ensure a legally compliant and hassle-free experience for both parties.
To ensure the safety and security of her guests, Sarah invested in a reliable security system for her condo. She also provided her guests with a detailed guidebook that included emergency contact numbers, nearby attractions, and recommendations for local restaurants and activities.
Sarah's dedication to providing a top-notch rental experience paid off. Her guests left glowing reviews and recommended her condo to their friends and family, resulting in a steady stream of bookings throughout the year. Not only did Sarah's vacation rental generate a passive income, but it also allowed her to enjoy her own dream vacations in Sosua whenever she desired.
Sarah's success story highlights the incredible opportunities that exist in the rental market in Sosua. With careful research, attention to detail, and a commitment to providing an exceptional experience, anyone can turn their dream of owning a vacation rental in the Dominican Republic into a reality.
Conclusion and Final Tips
Renting condos in the Dominican Republic provides an excellent opportunity for both vacationers and real estate investors to enjoy a memorable stay and explore the local market. The benefits of renting condos, such as space, privacy, and access to amenities, make it an attractive option for those seeking a unique experience.
As you plan your condo rental in the Dominican Republic, remember to book in advance to secure your desired condo. Additionally, leaving reviews and feedback about your rental experience can help future renters make informed decisions.
Now that you have all the essential information and tips, it's time to start your journey of finding the perfect condo for rent in the Dominican Republic. Get ready to create unforgettable memories in this tropical paradise!
---
Matthew Harrison, a seasoned travel writer and real estate expert, is the perfect guide to help you navigate the world of condo rentals in the Dominican Republic. With over a decade of experience in both the travel and real estate industries, Matthew Harrison has a deep understanding of what makes a vacation rental truly exceptional.

Having traveled extensively throughout the Dominican Republic, Matthew Harrison has firsthand knowledge of the best condos available for rent in the country. They have personally visited and evaluated numerous properties, ensuring that their recommendations are based on real-life experiences.

Matthew Harrison is also well-versed in the legal aspects of condo rentals in the Dominican Republic, having studied the country's real estate laws and regulations extensively. They understand the importance of providing accurate and up-to-date information to readers, ensuring that you can make informed decisions when it comes to renting a condo.

With their wealth of knowledge and expertise, Matthew Harrison is dedicated to helping you find the perfect condo for your vacation or investment needs in the Dominican Republic.